This is us preparing for the hypertext essay, with me taking sneaky video with PhotoBooth on my MacBook. (Although, in this case, the video wasn't so sneaky, as they knew they were being filmed. I do record at other times though, just to see people's reactions when they realise. Priceless.)

You can see how, because it's been recorded on the webcam, everything is mirrored, or back to front (eg. the writing on my hoodie). What's annoying though is that by uploading this video to YouTube, somehow the sound got out of sync with the video. The recording works fine on my computer, but there is definitely something wrong with the Internet version. I could simply attempt to upload it again, but I just want to show that sometimes, having things as a "hard copy" (or not online, at least) can mean the quality is better than when it is uploaded.
Something to think about, peeps!~
As a group, we decided to spice up our hypertext essay with gifs on the index page. since we can't use video, we thought having gifs would be an exciting addition, and a different way of incorporating moving pictures.

I had made GIF's before, such as these: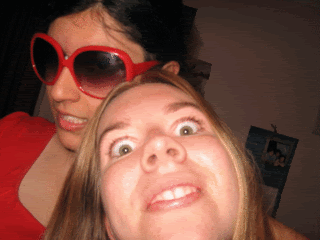 This is of my best friend Olivia and I, mucking around before a party...




This is made from a single photo, turned black and white and then tinted with a certain colour, and made into a GIF...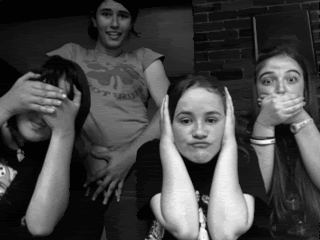 This one has also been created from a single photo, but the contrast is changed in each picture until I am entirely blacked out.
As you can see, I've always been a big fan of GIFs, and therefore I thought it would be great to use them in our hypertext essay. The problem was, though, that I had made all of these using software (the trial version of JASC animation shop, to be precise) which was fine on my PC, but didn't seem to have a Mac version.

WHAT EVER WERE WE TO DO?

Well, it turns out Google ended up saving the day with an easy guide on how to make GIFs using Photoshop.

Voila!